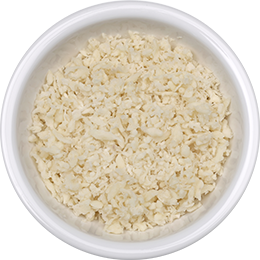 Textured Fava Beans Flake Fine Size (TFF)
Since 2016 we have developed a range of products made from locally sourced fava beans. These textured flakes are highly successful in the market and offer a sustainable raw material with a very low impact on the environment (LCA data for land use, GHG output and water use available on request). We use gentle processes based on seaweed extracts without high pressure or any artificial colourizers or binders and use cooking processes not higher than 76 °C. The product is delivered frozen in a 15kg bag IQF.
Size: 2-10mm
Colour: Off white
Scroll
Products made from fava beans are among our most successful ranges.  These varieties are used in vegetarian and vegan products like burgers, sausages, minced meat and fish substitute.  They are also used to blend with meat and/or fish.
Article 24010
Specifications
IQF frozen
15kg bag
Block pallet 1200X1000X1800mm
45 bags on 1 pallet
675 kgs on 1 pallet